This is Diwali Faral Special Recipe for preparing at home Crispy Rava Maida Shankarpali. These Shankarpali are crispier and tastier than the usual ones prepared using only Refined Flour because of the use of Semolina and Milk along with Refined Flour.
This step-by step recipe will make it easier to prepare these Khuskhushit or Crispy Rava Maida Shankarpali for your Diwali Faral.
The Marathi language version of this Shankarpali recipe can be seen here = Khuskhushit or Crispy Rava Maida Shankarpali for Diwali Faral
The video in Maarathi of the preparation method of this Shankarpali can be seen on our YouTube Channel – Khuskhushit Rava Maida Shankarpali Video
Preparation Time: 60 Minutes
Serves: 1 Kg
Ingredients
3 Cups Refined Flour (Maida)
1 Cup Semolina (Rawa, Suji)
1 Cup Vanaspati Ghee or Oil
1 Cup Milk
1 ½ Cup Sugar
Salt as per taste
½ Teaspoon Cardamom Powder
Ghee or Oil for frying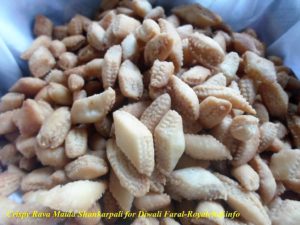 Preparation
First of all sieve the Maida and Rawa with a strainer and keep it aside. In a Vessel add Milk, Ghee or Oil and Sugar and boil until the Sugar will start to dissolve. Then keep it aside for cooling.
After cooling the mixture add the Maida, Rawa, Salt, Cardamom Powder and mix it well and prepare a Dough and keep it aside for 1 hour. While preparing the Dough if required add more Maida or Rawa because the Dough should have a consistency similar to that of a Chapati Dough.
Then prepare 4-5 equal sized balls from the Dough. Then take a Dough ball and roll it like a slightly thick Chapati and then cut it with help of a cutter or knife into diamond like shapes. Use the procedure for all the Dough balls and keep them aside on a clean cloth.
Heat the Oil or Vanaspati Ghee in a Kadai and drop the diamond shaped Shankarpali in the hot Ghee or Oil. While dropping the Shankarpali keep the flame high and then after the Shankarpali are in thee Kadai keep the flame low. Deep-fry the Shankarpali on a low flame until the color changes into Golden.
Deep-fry all the remaining Shankarpali using the same procedure and keep them on a tissue paper for cooling.
After the Shankarpali cools down keep them in an air tight container.
Pl check the different varieties of Shankarpali published earlier on our site.
https://www.royalchef.info/2017/07/pakatle-shankarpali-for-diwali-faral.html
https://www.royalchef.info/2016/08/red-pumpkin-shankarpali-for-diwali-faral.html
https://www.royalchef.info/2015/10/kasuri-methi-shankarpali-for-diwali-faral.html
https://www.royalchef.info/2015/10/tasty-cheese-shankarpali-for-diwali-faral.html
https://www.royalchef.info/2014/10/godi-shankarpali-for-diwali-faral.html
https://www.royalchef.info/2014/10/khari-shankarpali-for-diwali-faral.html
https://www.royalchef.info/2011/06/recipe-for-sweet-shankarpali.html
https://www.royalchef.info/2016/11/tasty-and-crispy-fafda-for-diwali-faral.html
https://www.royalchef.info/2016/08/tasty-carrot-shankarpali-diwali-faral.html