This is a Recipe for making at home Carrot or Gajarachi Shankarpali. This tasty Shankarpali is another one of my special Shankarpali experiments using Carrots as the main ingredient.
This Shankarpali can be served as a Snack or even be included in the annual Diwali Faral Sweets to add more variety to your offering.
The Marathi language version of this Shankarpali recipe can be seen here – Gajarachi Shankarpali
Preparation Time: 60 Minutes
Serves: 4 Persons
Ingredients
2 Cups Red Carrot (shredded)
2 Cups Wheat Flour
1 Cup Milk (thick boiled)
1 Teaspoon Aniseeds (Badi-Saunf)
1 Tablespoon Oil (hot)
Salt as per taste
¼ Teaspoon Soda-by-carb
Oil for frying the Shankarpali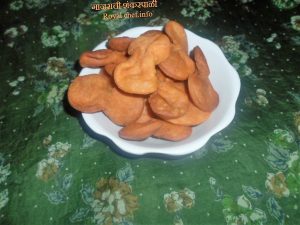 Preparation
Wash and shred the Carrot and then grind it to a mixture. Mix the grounded Carrot, Badi-Saunf, Oil, and Salt and then add the Soda-by-carb, Milk and Water as per requirement. Mix it well and prepare a thick Dough and keep it aside for 15-20 minutes.
Then prepare four equal sized balls from the Dough.
Roll the Dough Balls, one after the other like Chapattis and the cut them into diamond or any other shaped Shankarpalis, you can use a Shankarpali Cutter for this purpose.
Heat the Oil in a Kadai and deep fry the Shankarpalis until the color changes into light brown then keep them aside for cooling,
After the Shankarpalis cool down store them into a Plastic bag and then keep the Plastic bag in an air tight container.