This is a Recipe for preparing at home tasty and delicious typical Gujarati Style Fafda. The Fafda is also becoming popular in Maharashtra, most the Fafda prepared from Gram Flour, which is normally served with Jalebi and Papaya Chutney. The Fadda recipe described below uses Moong Dal, Urad Dal and a little bit of Papad Khar.
The recipe was given to me by my fried Lata Atul Shah, who prepared this crispy and crunchy snack as a part of the Diwali Faral Sweets.
The Marathi language version of the same Fafda recipe and preparation method can be seen here – Tasty Fafda for Diwali Faral
Preparation Time: 90 Minutes
Serves: 1 Kilogram of Fafda
Ingredients
500 Gram Black Gram Dal (Urad Dal)
500 Gram Green Gram Dal (Mung Dal)
2 Teaspoon Papad Khar
Salt as per taste
Oil for Fafda frying
Salt, Chat Masala or Red Chili Powder for garnishing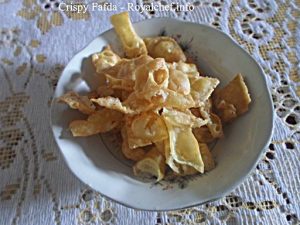 Preparation
Grind the Urad Dal and Mung Dal to a paste.
Mix the Urad-Mung Dal Atta, Papad Khar, Salt and some Water and prepare a thick Dough (stiff and hard) and then keep it aside for 10 minutes.
Then grind the Dough in a stone grinder in order to loosen it.
Then prepare 5-6 equal sized balls from the Dough.
Roll the balls like thin chapatis and cut them into long and thin half inch broad strips with a knife. Roll all the balls and prepare strips in the same manner.
Heat the Oil in a Kadai and deep-fry them on a slow flame until they become crispy.
Remove the strips from the Oil and sprinkle Salt and Red Chili Powder on them and mix it well.
Deep-fry the all strips and sprinkle Salt and Red Chili Powder in the same manner.
When the strips will cool down keep them into a plastic bag and then into a container.