This is a easy to follow step-by-step Recipe for making at home spicy and delicious authentic Maharashtrian Style Maswadi. Maswadi is a traditional Maharshtrian gram flour dish, which is served as a part of the main course.
The Marathi language version of the same Maswadi recipe can be seen here – Khamang Maswadi
Preparation Time: 45 Minutes
Serves: 4 Persons
Ingredients:
For the Stuffing:
1 Medium Size Onion (chopped)
7-8 Garlic Petals
1" Ginger Piece (chopped)
1 Green Chili (chopped)
1 Table spoon Sesame Seeds
1 Teaspoon Poppy Seeds
2 Tablespoon Dry Coconut (shredded)
2 Tablespoon Coriander Leaves
1 Teaspoon Coriander-Cumin Seeds Powder
½ Teaspoon Garam Masala
1 Teaspoon Red Chili Powder
¼ Teaspoon Turmeric Powder
1/8 Teaspoon Asafoetida
Salt as per taste
1 Tablespoon Oil
For the Covering:
1 Cup Besan (Gram Flour)
1 Tablespoon Oil
1 Teaspoon Red Chili Powder
¼ Teaspoon Turmeric Powder
1 Teaspoon Garlic Paste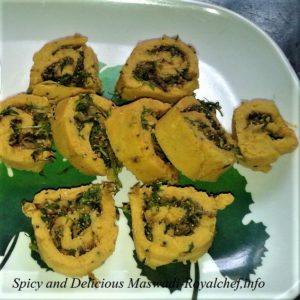 Preparation:
For the Stuffing:
Chop the Onion, Ginger-Garlic-Green Chili, shred the Dry Coconut, Wash and chop the Coriander leaves and keep it aside 5-10 minutes for drying.
In a Kadai, dry roast the shredded Coconut, Sesame and Poppy Seeds and keep them aside.
Heat the Oil in a Kadai and add the chopped Onion, Ginger-Garlic-Green Chili and saute for 2-3 minutes until the color changes in to light brown.
Then grind the mixture into a thin paste. Take the Onion Paste, Coconut, Sesame Seeds, Poppy Seeds, Coriander-Cumin Seeds, Coriander Leaves, Red Chili Powder, Turmeric Powder, Garam Masala, Salt, Asafoetida and mix it nicely.
For the Covering:
Heat 2 cups of Water and add the Ginger paste, Red Chili Powder, Salt, Turmeric Powder, Besan and mix it well.
Cook the mixture until it become a little thick. Keep it aside for 5 minutes for cooling and then spread the mixture over a plastic paper like a chapati.
Then spread the stuffing mixture over the chapati and then fold the chapati like a roll and gently remove the plastic paper.
Then slice the roll into 1/2" sized pieces.
Garnish the Masswadi with Coriander Leaves and the serve.