This is a simple and easy to follow Recipe for preparing at home Fast Food Stall Style Moth or Matki Bhel. This Bhel preparation, which uses Turkish gram as the main ingredient is tasty and delicious and you can easily make it for breakfast, snack or for Tea or Kitty Parties.
Children usually love this kind of crisp and crunchy Bhel.
Preparation Time: 30 Minutes
Serves: 4 Persons
Ingredients
1 Cup Moth
1 Cup Puff Rice
½ Cup Farsan or Sev
1 Small Onion (chopped)
1 Small Tomato (chopped)
1 Table spoon Coriander
2 Green Chilies (chopped)
½ Lemon Juice
Salt to taste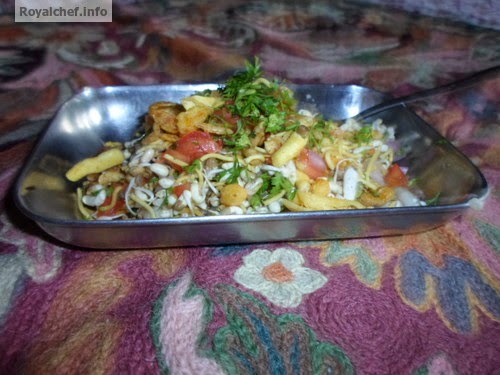 Preparation
Mix all Ingredients nicely. This is all that has to be done the Matki Bhel is ready. While serving garnish with Onion, Tomato, Coriander and Sev.