This is a Recipe for making at home sweet and delicious Maharashtrian Style Mango-Coconut Vadi.  This sweets dish, which is called as the Amba-Naralachi Vadi in the Marathi language,  is a speciality Maharashtrian Mithai using Mango Pulp and Coconut as the main ingredients.
The preparation method has been simplified by me to a great extent so as to enable the making of the Amba-Naralachi Vadi as easy and simple as possible.
The Amba-Naralachi Vadi can also be prepared for the annual Diwali Faral,  if fresh mangos are not available then tinned mango pulp can be used to make the Vadi.
The Marathi language version of the same Mango Burfi recipe can be seen here – Amba-Naral Vadi/Burfi
Mango-Coconut Vadi Preparation Time: 45 Minutes
Serves: 25 Mango Vadi
Ingredients
2 Cups Coconut (shredded)
1 Cup Alphonso Mango (Pulp)
½ Cup Sugar
1 Cup Milk
1 Tea spoon Cardamom Powder
1 Tea spoon Ghee
Dry Fruit for Garnishing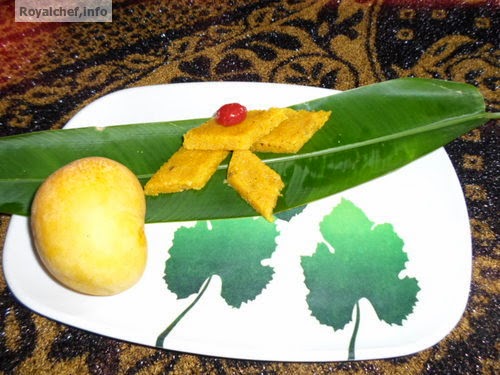 Preparation
In a Kadhai take the Coconut, Mango pulp, Sugar and Milk . Mix it well and cook until mixture is dry. Then add the Cardamom powder. Mix it well
Spread Ghee in a stainless steel plate and then spread the Coconut-Mango mixture. Garnish with Dry fruit. When it gets cool cut in to diamond shape.