This is a Recipe for preparing at home delicious Mango Modak.  Modak is a Maharashtrian Speciality dish, normally prepared as an offering to Ganesha, this particular Modak recipe makes the use of mangoes and is called Ambyache Ukdiche Modak or Steamed Mango Modak in the Marathi language.
Preparation Time: 60 Minutes
Serves: 21 Nos
Ingredients
For Filling
2 Cups Coconut (shredded)
100 Gram Khoya
1 Cup Alphonso Mango (Pulp)
½ Cup Sugar
½  Cup Milk
1 Tea spoon Cardamom Powder
¼ Tea spoon Nutmeg powder
1 table spoon Dry fruit (Almond and Cashew nut pieces)
For Covering
2 Cups Basmati Rice Atta
2 Cups Water
1 Tea spoon Oil or Ghee
Salt as per taste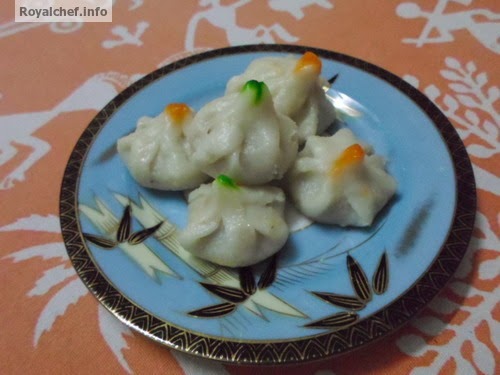 Preparation
In a Kadhai take the Coconut, Mango pulp, Sugar, Khoya and Milk . Mix it well and cook until the mixture is dry. Then add the Cardamom, Nutmeg  powder and crushed dry fruits.  Mix it well and keep it aside.
Boil water in a Kadhai and add Oil or Ghee. After the Water starts boiling add salt and then add  Rice Atta. Then mix it well and cover with a lid and then cook for 2-3 minutes on a slow flame.
Remove from the stove and put it in a plate and then mash with some cold Water and prepare a Dough.. Then prepare small balls from the Dough. After that  prepare small Puries on the Palm. Fill one table spoon Mango mixture and cover it nicely and give Modak shape, you can also if possible use a Modak Maker.
Boil the Water in a Vessel and put a stainless steel chalani on the Vessel. Keep a Banana leaf on the chalni and arrange Modaks on the chalni and then cover with Banana leaf and cover with a Steel Plate. Boil for 15 minutes.
While serving add some Ghee.