This is a simple to understand step-by-step Recipe for making at home Tasty Fast-Food Stall Style Vegetable Burger. This Vegetarian Burger is quick to make once you have all the necessary ingredients in place.
The Marathi language version of this Burger recipe can be seen here- Homemade Veg-Burger
Preparation Time: 20 Minutes
Serves: 4 Persons
Ingredients
1 Ladi Pav or 8 Buns
8 Aloo Tikkies or Potato Patties (refer Aloo Tikki recipe)
½ Cup Tomato Ketchup
1 Cup Mint Chutney (refer – Mint Chutney recipe)
1 Big size Cucumber
1 Big size Tomato
3 Cheese Cubes
½ Cup Butter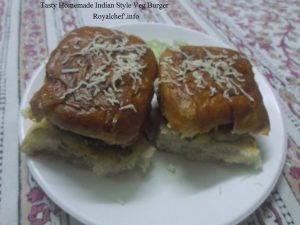 Preparation
Prepare the Potato Tikkies and the Mint Chutney and keep them aside.
Cut the Onion, Tomato, and Cucumber in round shapes.
Slit the Buns and apply a tablespoon of Butter.
Cut two Cheese cubes into thin slices and shred the one Cheese Cube for garnishing.
Heat a Non-Stick Tawa and roast the Buns slightly from the both sides.
Apply one tablespoon Mint Chutney in the inside portion of the slit Bun, then apply half a tablespoon of Tomato Ketchup over the Mint Chutney and then place a slice of Tomato and Cheese and Cucumber over it and then keep the Aloo Tikki and close the slit Bun.
Prepare all Burgers in the same style and serve hot.
While serving garnish with shredded Cheese.