This is a Recipe for Carrot Modak, a special type of Modak, using a filling similar to the Gajar Ka Halwa. A different kind of Modak for Ganesh Chaturthi or  Sankashti Chaturthi.
Preparation Time: 60 Minutes
Serves: 7 Modak
Ingredients
For the Filling
250 Grams Carrot
½ Cup Milk
¼ Cup Sugar
¼ Tea spoon Cardamom Powder
Dry Fruits
For the Covering
1 Cup Rice Flour
1 Cup Water
1 Tea spoon Refined Flour
1 Tea spoon Ghee
Salt as per taste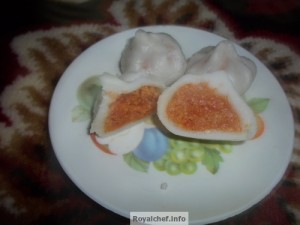 Preparation
Wash, Clean and shred the Carrot. Heat the vessel and add shredded Carrot, Milk, Sugar and cook until the mixture become thick. Then add Cardamom Powder, Dry Fruits and mix it well.
Heat the Water in a Vessel and add Salt and Ghee and then add Rice Flour, Refined Flour and mix it well and cover with a stainless steel lid. Cook for two-three minutes on a slow flame.
Remove the Rice mixture from the Vessel and prepare Dough by using normal Water. Prepare lemon size balls, pat on your palm like a small Puri, fill a tablespoon of the Carrot mixture fold the Puri, and give a Modak shape. Prepare all the Modak. Keep the Banana leaf on a strainer and arrange the Modak on the Banana leaf.
Heat the Water in a big size Vessel, keep the strainer over the Vessel, and cover with a Banana leaf and stainless steel Plate. Steam them for twelve-fifteen minutes.
Serve hot by adding Ghee.
The Marathi language version of the same Modak preparation is given in the article – Here