This is a Recipe for Mixed Fruit Chat Salad, a simple Indian Salad, tailored to suit Indian Taste. Once you collect all the ingredients, all that you need to do is to mix and refrigerate them.
The recipe in the Marathi language is given below, for the benefit of Maharashtrian readers.
Ingredients
1 Potato (boiled, peeled and cut)
1 Carrot (slightly boiled and cut
One Guava (remove the seeds and cut)
One Cucumber (peel and cut)
One Apple (peel and cut)
One Banana (peel and cut)
Three Tablespoon Lemon Juice
One-Tablespoon Chat Masala
½ Cup Coriander (chopped)
Salt as per taste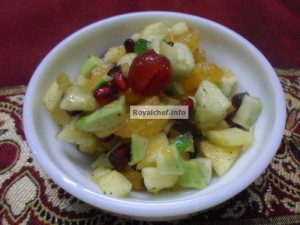 Preparation
Mix all ingredients and keep in refrigerator.
Serve in glass bowl.
मिक्स फ्रुट चाट सलाड
साहित्य : १ बटाटा (उकडून, सोलून तुकडे), १ गाजर (उकडून, तुकडे), १ पेरू (बिया काढून तुकडे), १ काकडी (सोलून, तुकडे), १ सफरचंद (सोलून तुकडे), १ केळे (स्लाईस), ३ टे स्पून लिंबू रस, १ टे स्पून चाट मसाला (लागेलतसा), १/२ कप कोथंबीर (चिरून), मीठ चवीने
कृती : सर्व साहित्य मिक्स करून फ्रीजमध्ये थंड करून काचेच्या बाऊल मध्ये सर्व्ह करा.