This is a Recipe for Milk Mushroom Soup, which is amongst one of the Soup recipes experimented by me to suit Indian taste.
The Soup is thick and tasty, unlike other watery Mushroom Soup preparations and is quite filling and wholesome and best part is that kids will love it.
Ingredients
100 Grams Mushrooms
2 Cups Milk
One-Tablespoon Wheat Flour
One-Teaspoon Oil
½ Tablespoon Butter
Salt and Black Pepper Powder as per taste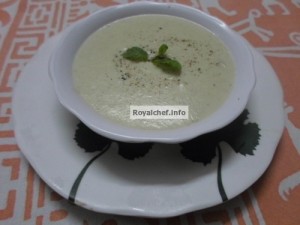 Preparation
Clean, wash and cut the Mushroom in to medium size pieces.
Mix the one cup Milk and the Wheat Flour.
Heat the Oil in a Pan, add the Mushroom and fry for a minute and then prepare a paste by adding ¼ cup Milk.
Heat the Butter in a Kadhai and add the Wheat Flour Milk and cook for two minutes and then add the grounded Mushroom and mix it well. Add the remaining Milk and cook for two – three minutes.
While serving add the Salt, Black Pepper and serve Hot.