This is a Recipe for the very famous Mumbai Style Vada Pav. This is very popular fast-food and snacks dish all over the India, but basically, it originated from Mumbai.
Given below is a step by step method to easily prepare the Vada Pav for your family or for parties and function at home.
You can serve this with the special chutney for Batata Vada which I had written about some time back, it can be seen here– or the mint chutney given – here.
This preparation is somewhat similar to the Maharashtrian style Batata Vada given some time back; you can use that recipe if you wish.
Preparation Time: 45 Minutes
Serves: 4 Persons
Ingredients
8 Pieces Ladi Pav
For the Vadas
4 Medium size Potatoes (boiled, pealed and mashed)
1 Tea spoon Lemon Juice
Salt as per taste
For the Masala (grind)
¼ Cup Coriander
7-8 Petals Garlic
1" Piece of Ginger
2-3 Green Chilies
For the Tadka
½ Table spoon Oil
1 Tea spoon Mustard Seeds
1 Tea spoon Cumin Seeds
¼ Tea spoon Asafoetida
1 Medium size Onion
¼ Tea spoon Turmeric Powder
7-8 Curry Leaves
For the Batter
1 ½ Cup Bengal Gram Dal Flour (Besan)
1 Table spoon Oil (hot)
1 Tea spoon Red Chili Powder
¼ Tea Spoon Asafoetida
Salt as per taste
Oil for deep fry the Vadas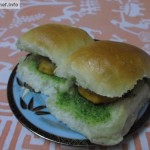 Preparation
Boil the Potatoes and then peel and mash them. Then add the lemon juice and Salt mix it well.
Green Masala
Grind the Coriander, Ginger, Garlic, Green Chiles like a roughly paste.
Heat the Oil and then add the Mustard Seeds, Cumin Seeds, Asafoetida, Onion, Curry Leaves, Turmeric Powder and fry for two minutes and add the green grounded Masala and fry for a minute. Then add the mashed Potatoes and mix well and fry for two-three minutes. Prepare small balls and flatten them in the center on your palm.
Besan Batter
Mix the Besan, Red Chili Powder, Salt, hot Oil nicely and add some water and prepare a slightly thick batter.
Heat the Oil in a Kadhai and then dip each Vadas in the Besan batter and then deep fry them in the hot Oil till its color changes into golden yellow.
Cut the Ladi Pav in the Center and then apply Green Chutney, insert the Potato Vada and then serve hot.