This is a Recipe for making at home spicy and delicious Masalawala Rasgulla. an uncommon and unique main course Gravy preparation, using the Rasgulla with a Garam Masla Gravy.
Ingredients
For making the Rasgulla at home, see the recipe – Here. The recipe given here uses half a liter Milk to make the Rasgullas.
 
For the Gravy
1 Cup Coconut (grated)
1 Tea spoon Red Chili Powder
1 Green Chili (chopped)
¼ Tea spoon Turmeric Powder
½ Cup Tomato Puree
1 Table spoon Almond-Cashew nut Powder
1 Table spoon Fresh Cream
1 Tea spoon Sugar
Salt as per taste
For the Tadka
½ Table spoon Oil
1 Small Onion (chopped)
1 Table spoon Ginger-Garlic Paste
¼ Tea spoon Kasuri Methi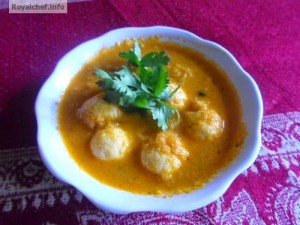 Preparation
Mix the Coconut, Red Chili Powder, Green Chili Powder, Turmeric Powder, ¼ Cup Water and then grind it to make a thick paste.
Heat the Oil in a Kadhai, add the Onion, Ginger-Garlic Powder, Kasuri Methi and fry for a minute, and then add the grounded Coconut Paste and fry for five minutes on a slow flame.  Add the Tomato Puree and fry for two-three minutes on a slow flame.
Then add a glass of Water, Salt, Sugar, Almond-Cashew nut Powder, Fresh Cream and cook for four-five minutes on a slow flame.
Serve hot before serving add Rasgulla and then serve with Parathas or Chapatti
The Marathi language version of this Spicy Rasgulla Gravy is published in this – Article