This is a Recipe for preparing at home Restaurant Style Bread Jhinga Toast or Crispy Prawns Toast.
Ingredients
8-10 Big size Prawns
1 Table spoon Oil
1 Table spoon Ginger-Garlic thick Paste
¼ Tea spoon Turmeric Powder
1 Tea spoon Lemon Juice
Salt as per taste
5 Bread slice (cut in different shapes)
Oil for trying Bread shapes
1 Cucumber (cut in round shapes
1 Cheese Cube (shredded)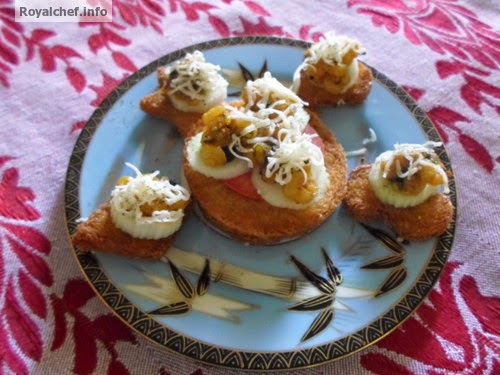 Preparation
Heat the Oil in a  Kadhai and deep fry the Bread shapes till color changes in to light brown and keep them aside on a paper.
Heat the Oil in a Kadhai and then add the Ginger-Garlic paste and fry for a minute on a slow flame then add the Prawns, Salt and cook for four-five minutes on a slow flame then add the Lemon Juice and cook for a minute.
Arrange the fried Bread shapes in a plate and then garnish with Cucumber, cooked prawn, shredded Cheese and sprinkle salt and Pepper.