This is a very simple Recipe for making at home Papad Nachos. This is a Mexican dish but I have changed it suit Indian tastes.
Preparation Time: 20 Minutes
Serves: 2 Persons
Ingredients
2 Papad
1 Tea spoon Oil
2 Table spoon Sweet Corn Niblets (boiled)
2 Table spoon Carrot (shredded)
2 Table spoon Onion (chopped)
2 Table spoon Tomato (chopped)
2 Table spoon Coriander (chopped)
2 Cheese Cubes (shredded)
Salt and Pepper as per taste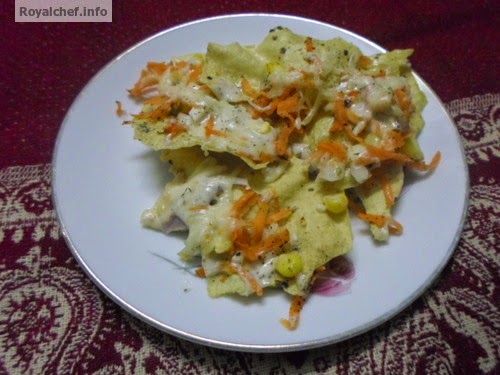 Preparation
Apply the half tea spoon Oil over the Papad and then roast it in the Microwave for a minute on both the sides and then break the Papad in to four-five pieces and arrange over the non stick plate.
Garnish with the Sweet Corn Niblets, Carrot, Onion, Tomato, Coriander, Cheese, Salt, Pepper and then pre-heat the microwave and grill the Papad for three minutes.
Serve hot.
नॉचोज
बनवण्यासाठी वेळ: २० मिनिट
वाढणी: २ जण
साहित्य : २ पापड किंवा खाकरे , २ टे स्पून मक्याचे दाणे (उकडून), २ टे स्पून गाजर (किसून), २ टे स्पून कांदा, २ टे स्पून टोमाटो (बारीक चिरून), २ टे स्पून कोथंबीर (चिरून), २ चीज क्यूब (किसून), मीठ व मिरे पावडर चवीने
कृती : पापडाला थोडे तेल लावून ओव्हनमध्ये भाजून घेवून त्याचे मोठे तुकडे करा ते तुकडे एका ओव्हन च्या प्लेट मध्ये ठेवा व पापडाच्या तुकड्यावर  मक्याचे दाणे, गाजर, कांदा, टोमाटो, कोथंबीर मीठ, मिरे पावडर व किसलेले चीज घालून घ्या. ओव्हन गरम करून प्लेट ओव्हन मध्ये ठेवून  २-३ मिनिट ग्रील करून घ्या.
गरम गरम सर्व्ह करा.