This is a Recipe for the most famous and popular Kancheepuram Idli. In this post, I have given a simple recipe to prepare this famous Idli at home.
Ingredients
 1 ½ Cup Boiled Rice
1 Cup Black Gram Dal
½ Tea spoon Asafoetida Powder
1 Tea spoon Pepper Corn (crushed)
1 ½ Tea spoon Dry Ginger (crushed)
1 Tea spoon Cumin Seeds
2 Table spoon Oil
2 Table spoon Ghee
8-10 Curry Leaves
Salt as per taste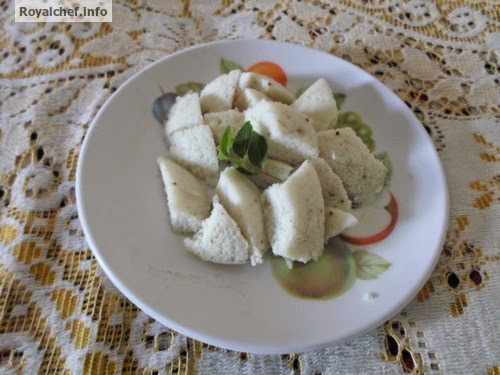 Preparation
Soak separately the boiled Rice and Black Gram Dal for four hours. Grind the Rice and Black Gram Dal, then add the Asafoetida, crushed Pepper Corn, Cumin Seeds, Salt, and then keep the batter aside for twelve hours.
Before making Idli, add hot Oil and hot Ghee, Curry Leaves and mix it well.
Smear Oil in a Pan. Pour the batter and pressure-cook without weight for twenty minutes until done.
Remove the Idli from pressure cooker and cut into triangular shapes.
Serve hot with Chutney.
The Marathi language version of the Kanchipuram Idli recipe is published in this – Article