Modak and Ganesha are inseparable, when one thinks about the Modak; the image of Ganesha comes to the mind. Modaks are in huge demand all over Maharashtra during the Ganapati festival, during this festival the Modak is the most sought after Food Offering or Prasad/ Bhog, which is offered to Ganesha.
Apart from the Ganapati festival, there are Millions of devote Ganesh Bhakts, who observe a fast on the day of Sankashti Chaturthi every month. This is the special day of Ganesha, which comes every month on the Fourth Tithi of the Krishna Paksha or the Dark Fortnight of the Hindu Month. On this day the devote offer Modaks to Ganesha after concluding their fast at night.
Modaks are usually prepared using a mixture of fresh desiccated coconuts and Jaggery along with the addition of some dry fruits and spices. They are prepared in Ukadiche or Boiled, fried and baked styles.
However, apart from the usual stuffings, Modaks can be prepared using different flavors and stuffings, including that of different vegetables, pulses and fruits.
Lately, I have been experimenting, Modaks, using different flavors and stuffings. In this section are a selection of some of those Modak recipes already published on this site in the past. I have given demonstrations of these recipes at various cooking forums and published some of them in prestigious magazines, newspapers and periodicals. In the near future, I will post more and more Modak recipes, using different stuffings.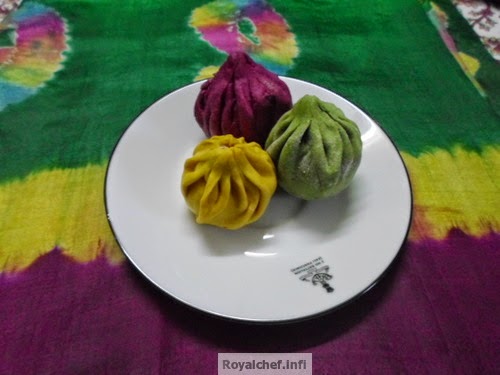 To see a more diverse and wider range of Maharashtrian Modak recipes of all kinds, please visit the category on – Modak and Karanji Recipes
Recipe for Fried Modak
Recipe for Boiled Modak
Recipe for Mango Modak
Recipe for Mango-Coconut Modak
Recipe for Crispy Spicy Coriander Modak
Tasty Cheese Corn Modak
Crispy Spicy Mutter Modak
Vegetable and Noodles Modak
Steamed Paneer Modak
Cauliflower Che Modak – Karanji
Kothimbir [Karanji]
Ganapati Aarti Prasad Bundi Modak
Chocolate Modak for Prasad after Ganesh Arati
Dry Fruits Modak as Prasad for Ganesh Aarti