This is a simple to follow Recipe for making at home crispy and spicy Rajma Kabab. Rajma or Red Kidney Beans is a very popular pulse in the Northern parts of India, this pulse is used to prepare many popular dishes, including the delicious Rajma Ke Kabab described by me in this article.
The Rajma Kabab is an uncommon dish, which can be served as a snack, starters item or even as a part of the main course meals.
Preparation Time: 60 Minutes
Serves: 12 Rajma Kababs
Ingredients
 2 Cups Rajma (soaked and cooked)
½ Cup Green Spring Onion (chopped)
½ Cup Spring Onion (white portion chopped)
1 Tea spoon Ginger
1 Tea spoon Garlic
1 Tea spoon Green Chilies
¼ Cup Onion (chopped)
½ Cup Coriander
1 Tea spoon Chat Masala
1 Table spoon Gram Flour (Besan)
½ Table spoon Refined Flour
Salt as per taste
Oil for frying the Kabab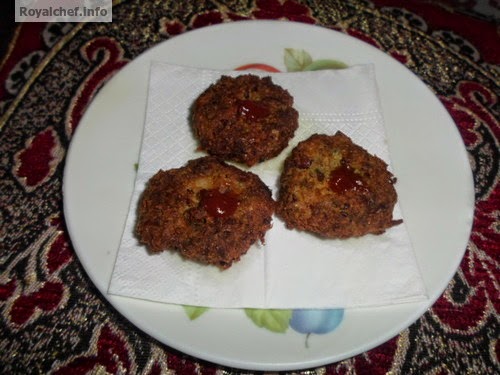 Crispy Rajma Kabab
Preparation
Soak the Rajma for 12 hours and then boil. Then grind the Rajma slightly to make a thick paste along with the Spring Onion, Onion, Ginger, Garlic, Chili, and Coriander.
Then mix the grounded Rajma, Chat Masala, Salt, Gram Flour, Refined Flour and prepare the Dough.
Prepare small balls from the Dough and press them from the center with your hand to give the shape of a Kabab and then keep them aside.
Heat the Oil in a Kadhai and deep fry the Kabab till color changes in to Brown.
Serve hot with Tomato Sauce.