This is a Recipe for Kala Jamun, the famous Indian Mithai, in this post, I will show you how the Kala Jamun can be prepared at home.
Preparation Time: 30 Minutes
Serves: 8 Nos
Ingredients
For the Jamun
1 Cup Khoya
¼ Cup Paneer
¼ Cup Refined Flour
Pinch Baking Powder
½ Tea spoon Sugar
Cardamom Seeds
Oil for Deep frying the Jamun
For the Sugar Syrup
¾ Cup Sugar
1 Cup Water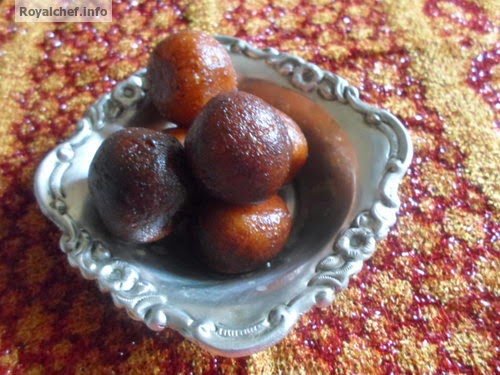 Preparation
For the Sugar Syrup boil, the Water and Sugar until it become slightly thick.
Mix the Khoya, Paneer, Refined Flour and Baking Powder and prepare a Dough. Then prepare medium size balls from the Dough and insert the two Cardamom seeds in the balls and keep them aside.
Heat the Oil in a Kadhai and deep fry the balls until color changes in to dark brown.
Then dip all the Jamun in the Sugar Syrup and boil for two minutes on a slow flame. After fifteen minutes remove the Kala Jamun from the Sugar Syrup and keep them in the refrigerator.
The Marathi language version of the Kala Jamun recipe is given in the article – Here