This is a Recipe for making at home sweet, tasty and delicious authentic Maharashtrian Style Sukha Meva or Dry Fruits Modak for distribution as Prasad after the Ganesh Aarti during the annual Ganpati festival.
Preparation Time: 45 Minutes
Serves: 21 Nos
Ingredients
1 Cup Dry Dates (Kharik Powder)
1 Cup Dry Coconut (shredded)
1 Table spoon Poppy Seeds (Khas- Khas)
¼  Tea spoon Nutmeg (powder)
2 Table spoon Rose Petal Jam (Gulkand)
8-10 Dates (Khajur-chopped)
2 Table spoon Cashew nuts/Almonds Powder
1 Table spoon Sugar (ground)
2 Table spoon Ghee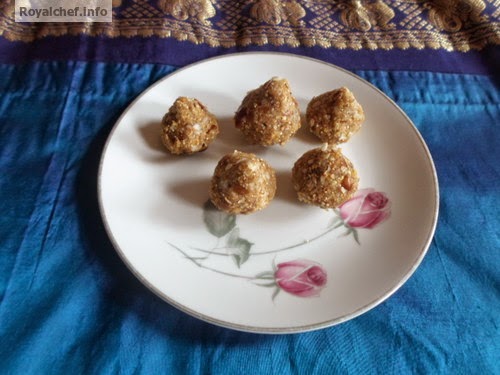 Dry Fruits Modak
Preparation
Slightly roast the Dry Dates Powder, shredded Dry Coconut and Poppy Seeds.
Mix the Dry Dates Powder, Dry Coconut, Poppy Seeds, Nutmeg Powder, Rose Petal Jam, chopped Dates and Cashew nuts, Almond Powder, grounded Sugar, Ghee and then prepare the Laddo's or Modak.
The ingredients can be proportionately increased to meet the requirements.