This is a Recipe for making at home rich, tasty and delicious authentic Restaurant or Dhaba Style Kashmiri Dum Aloo with a combination of both White and Brown Gravy.
The recipe to prepare this traditional Kashmiri speciality main course dish is given in an step by step manner.
The Marathi language version of the same Dum Aloo recipe and preparation method can be seen here – Rich and Delicious Kashmiri Dum Aloo
Preparation Time: 60 Minutes
Serves: 4 Persons
Ingredients
 8 Baby Potatoes
Oil for Frying the Potatoes
For the Filling  Baby Potatoes
2 Table spoon Khoya
1 Tea spoon Ginger-Garlic Paste
¼ Tea spoon Black Pepper Powder
¼ Tea spoon Lemon Juice
½ Tea spoon Sugar
1 Tea spoon Cashew Nut-Almonds thick Powder
3 Table spoon Refined Flour  (Maida)
½ Cup water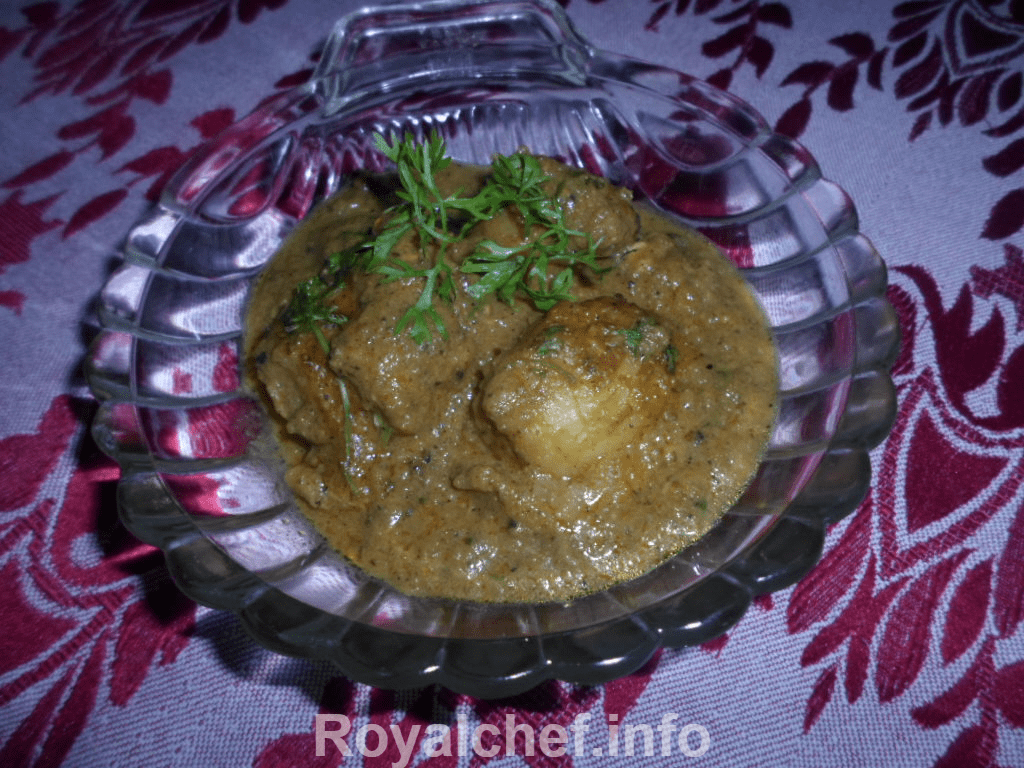 Brown and White Gravy Kashmiri Dum Aloo
For the Gravy Masala
¼ Cup White Gravy
(For the white Gravy ½ Tea spoon Oil, 10 Cashew nuts, 2 Table spoon Magaj and ¼ Bay leaf)
¾ Cup Brown Gravy
(For the Brown Gravy 4 Big Onion, ½ Table spoon Ginger-Garlic Paste, ½  Tea spoon Coriander-Cumin Seeds, ½ Bay Leaf, ½ Tea spoon Garam Masala, ¼ Tea spoon Turmeric Powder)
1 Tea spoon Red Chili Powder
2 Table spoon Fresh Cream
Salt as per Taste
Preparation
For the Dum Aloo – Peel the Potatoes, cut a little bit of the upper portion, and then scoop out some of the portion with a spoon or knife to create a hole in the center of the Potato.
Mix the Khoya, Ginger-Garlic Paste, Black Pepper Powder, Lemon Juice, Sugar, and Cashew nut-Almonds Powder to prepare a mixture, then fill the mixture in the Potatoes, and after filling the Potatoes close them with the cut upper portion by pressing it with your hand.
Then prepare the Refined Flour Paste and dip the Potatoes in the paste and then deep-fry them until the color changes in to light brown.

For the White Gravy – Take the Cashew nuts, Magaj, Bay leaf and boil them in two cups of water for fifteen minutes on a slow flame then grind it to a fine paste.  Heat the Oil in a Kadhai and fry the fine paste until it becomes dry.

For the Brown Gravy –  Heat the Kadhai and then add the Onion and fry until brown then grind it to a fine paste. Heat the Oil in a Kadhai and add the Onion Paste, Ginger-Garlic Paste, Coriander-Cumin Seeds Paste, Garam Masala and fry on a slow flame until it become dry. Then add the Red Chili Powder and Turmeric Powder and mix it well.
In a Pan mix the White Gravy, Brown Gravy, two cups Water, Salt and cook for five minutes on a slow flame and then add the Fresh Cream and Potatoes and cook for two-three minutes on a slow flame.
Serve hot with Paratha.