This is a easy and most simple Recipe for easily preparing at home the famous and popular Schezwan Sauce.
The Schezwan Sauce is an essential ingredient and an integral part and parcel of all Chinese Schezwan Recipes, including rice, soups and non-veg food like chicken.
The preparation of homemade Schezwan Sauce is very easy, all you need are the ingredients, I have mentioned to prepare it at home.
Preparation Time: 20 Minutes
Serves: Half a Cup of Schezwan Sauce
Ingredients
2 Tea spoon Celery
1 Table spoon Parsley
1 Table spoon Garlic Paste
½ Table spoon Ginger Paste
¼ Table spoon Ajinomoto
¼ Table spoon Black Pepper powder
1 Tea spoon Red Chili Powder
1 Table spoon Tomato Sauce
1 Table spoon Vinegar
1 Tea spoon Soya Sauce
1 Tea spoon Salt
2-3 Drops Red Color
3 Table spoon Oil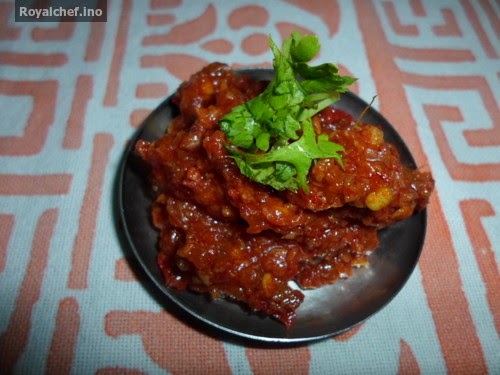 Schezwan Sauce
Preparation
Heat the Oil in a Kadhai and then add all Ingredients and fry then for two-three minutes on a slow flame.
The Schezwan Sauce is ready. After it cools down, you should store it in a clean glass bottle.