This is a Recipe for preparing at home typical Chinese Restaurant Style Chicken Schezwan Fried Rice, I have given this recipe of the famed Chinese Rice recipe in a step by step manner to make it easy for the new housewife.
Ingredients
2 Cups Basmati Rice (cooked)
¼ Kg Chicken (bone less)
1 Tea spoon Ajinomoto
½ Tea spoon Black Pepper
3 Tea spoon Soya Sauce
1 Cup Onion (finely cut)
½ Tea spoon each Ginger-Garlic – Green Chili paste
2 Table spoon Schezwan Sauce (Ref this recipe for Schezwan Sauce)
1 Egg (beaten)
Salt as per taste
2 Table spoon Oil
¼ Cup Spring Onion (chopped)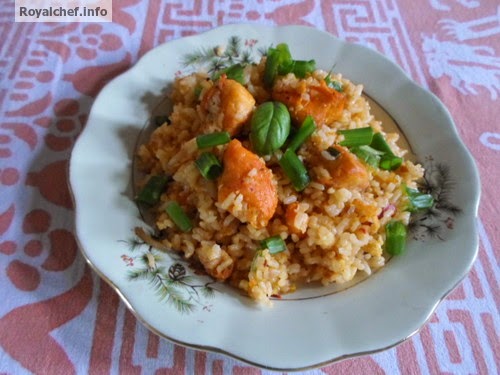 Preparation
For the Rice :- Wash the Basmati Rice and keep aside for thirty minutes.
Heat eight cups of Water in a Vessel and then add two cloves, four Cardamoms, four-five Black Pepper Corns, three Bay leaves, two small size Cinnamon, Salt and then the Rice. Cook for ten to eleven minutes, then drain the excess Water with help of a stainer, and then pour cold Water over it.
Cook the Chicken pieces and keep them aside.
Heat the Oil in a Kadhai and then add the Ginger-Garlic-Green Chili Paste and fry for two minutes, add Onion and fry for two minutes. Then add cooked Chicken pieces and fry for five minutes on a slow flame and then add the Soya Sauce, Ajinomoto, Black Pepper, cooked Rice and mix it well.
Then add the beaten Egg and Spring Onion mix it well and fry for two-three minutes on a slow flame.
Then add Schezwan Sauce and mix it well.
Serve hot.