This is a Recipe for preparing Tisrya Mule Gravy. This is a special dish from the Konkan region of Maharashtra. Tisrya are the smaller variety of river Mussels, the larger one is called Khube. This gravy is not only delicious but good for health.
Ingredients
500 Grams Tisrya Mule
1 Big Onion (chopped)
1 Tea spoon Turmeric powder
2-3 Kokam
1 Table spoon Oil
For Masala
1 Cup Coconut (shredded), 1 Small Onion (chopped), 10-12 Petals of Garlic, 3-4 Red dried Chilies
2-3 Cloves, ½ " Cinnamon, 3-4 Black pepper, 1 Cardamom (brown), 2-3 Cardamom (green)
½ Tea spoon each Cumin seeds, Mustard seeds, Caraway Seeds, Coriander seeds, Poppy seeds
¼ Bay leaf and ½ Table spoon Oil
Salt to taste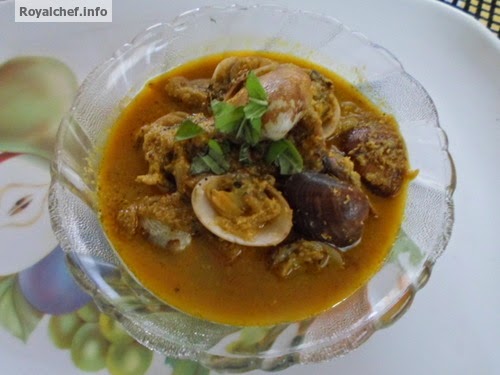 Preparation
First of all Clean the Tisrya/ Mule in the Water and remove one portion of the shell [ the one without the meat ] and discard it and wash again with the Water.
Heat ½ Table spoon Oil in the Kadhai and then add Chopped Onion and Garlic fry for 2 minutes on the slow flame and then add the Coconut and fry for 3-4 minutes on the slow flame. Then add the rest of the Ingredients and fry for 2-3 minutes on the slow flame. Then grind the Masala in the mixer.
Heat the one table spoon Oil in the Kadhai and then add Onion and fry the Onion till color change in to the light brown. Then add the Turmeric powder and the Tisrya/ Mule. Mix it well and cook on the slow flame for 5-7 minutes.
Then add the grounded Masala, Salt and 1 Cup of the Water. Mix it well, cover with a stainless steel plate and cook 10-12 minutes on the slow flame. Then add Kokam and cover it again for 2-3 minutes.
Serve with Paratha or Rice.