This is a simple and easy to follow Recipe for preparing at home delicious Mango-Coconut Laddu. This recipe is similar to the one posted just before this one of the Bournvita Laddu. This Ladoo preparation uses Fresh Mango Pulp instead of bournvita. Another great Laddu for kids, it is easy to prepare without consuming much time or effort.
The Mango Coconut Ladoo is also an uncommon sweets dish for the Diwali Faral.
Preparation Time: 30 Minutes
Serves: 20 Mos (small)
Ingredients
1 Coconut (shredded)
1 Cup Milk
1 Cup Sugar
1 Cup Alphonso Mango (Pulp)
1 Tea spoon Cardamom powder
¼ Tea spoon Nutmeg powder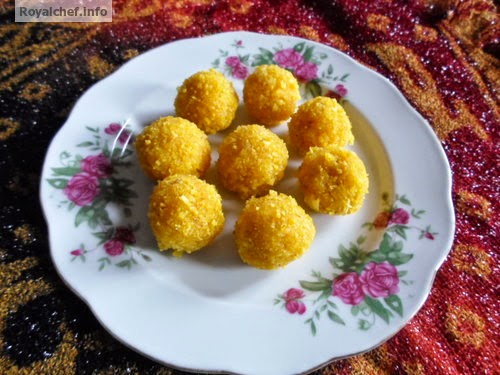 Preparation
Mix all ingredients in the Kadhai and cook till the mixture become thick and then prepare laddu.
The Marathi language version of the Amba-Naral Ladoo is published in this – Article