This is Recipe for preparing at home crispy Suran Chips or Suranache Kaap in the Marathi language. Crispy Chips-Fritters can be prepared using the Slices of Elephant Foot Yam.
These Suran Fritters make a tasty Snack, which can also serve as an add on to the main course; another traditional and authentic Maharashtrian dish.
Preparation Time: 60 Minutes
Serves: 4-5 Persons
Ingredients
¼ Kg Suran
Ghee for frying
1 Tea spoon Red Chili powder
Salt to taste
1 Piece of Tamarind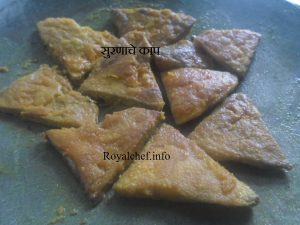 Preparation
First of all remove the skin of the Suran. After that prepare 1 inch size pieces and then boil then or 10 minutes on slow slim. While boiling add the Tamarind piece.
After that remove the excess water. And then press the Suran pieces with your hand to remove the remaining water.
Heat the Ghee (Dalda) in a frying pan. Deep fry the Suran pieces till color change in to dark brown.
Then sprinkle Salt and Red Chili powder on it. If you like you can sprinkle Black Pepper powder also.
The Marathi language version of the Suran Fritters preparation method is published in this – Article