This is a recipe for making at home Traditional Maharashtrian Kadha to treat cough, colds, fever. Kadha is a very popular and time-tested home remedy or Gharelu Upay that has always been practiced in India for treating the ailments mentioned above.
Kadha is a a very effective home medicine to boost immunity and it can prove to be very useful during this trying period of Mahamari.
The Marathi language video of this Home made remedy Kadha can be seen on our YouTube Channel: Traditional Kadha For Cold Cough and Fever
Preparation Time: 15 Minutes
Serves: ½ Glass
Ingredients
½ Teaspoon Carom Seeds
4 Cloves
3 Small Cinnamon Sticks
1 Teaspoon Anise Seeds
8-10 Black Peppers
1/2" Ginger Piece
15 Tulsi Leaves
1/2 Teaspoon Turmeric Powder
2 Green Cardamom
A Pinch Black Salt
2 Teaspoon Jaggery
1 Big Glass Water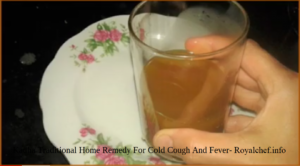 Preparation: First roughly grind the Cloves, Cinnamon, Black Pepper, Anise Seeds and Carom Seeds and keep them aside.
In a Pot add one glass of Water and when the Water is well heated add the grounded Cloves, Cinnamon, Black Pepper, Anise Seeds, Carom Seeds and Tulsi Leaves and boil the Water on a slow flame for 10 minutes. The water should evaporate to about half its original quantity.
Then, add the Turmeric Powder, Cardamon and Jaggery and boil for a minute. Then, add the a pinch of Black Salt and mix it well. Switch off the flame and strain the Kadha with a strainer into another bowl.
The dosage for adults is 1-2 table spoon thrice a day and for children 1- 2 tea spoon thrice a day.