This a Recipe for making at home Maharashtrian Style Sweet Corn Patodi Gravy or Makyachya Kansache Patavadi Rassa. I have specially created this new and unique version of making the traditional Maharashtrian Patodi using shredded Sweet Corn, instead of the usual Besan.
The Sweet Corn Patodi or Makyachya Kansache Patavadi is crisp and delicious and the Gravy is rich and spicy and can prove to be welcome change for main course meals.
Preparation Time: 45 Minutes
Serves: 4 Persons
Ingredients
For the Patodi Vadi
1 Sweet Corn (shredded)
1 Tablespoon Oil
1 Teaspoon Cumin Seeds
1 Tablespoon Ginger- Garlic Paste
Salt as per taste
Masala for the Sweet Corn Gravy:
1 Tablespoon Oil
1 Teaspoon Fenugreak Seeds (Methi Dane)
2 Tej Patta
1 Big Size Onion (chopped)
1 Tablespoon Ginger-Garlic-Green Chili Paste
2 Tablespoon Curd
1 Medium Size Tomato (chopped)
¼ Teaspoon Turmeric Powder
1 Teaspoon Red Chili Powder
½ Teaspoon Garam Masala
¼ Teaspoon Cumin-Coriander Powder
Salt as per Taste
Coriander Leaves (chopped)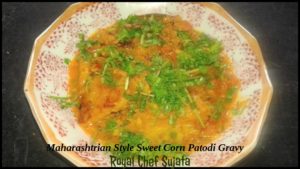 Preparation:
For the Patodi: First of all Shred the Sweet Corn and keep it aside. Prepare the Ginger Garlic Paste
Heat the Oil in a Pan and add the Cumin seeds then add the Ginger-Garlic Paste and saute for a minute and then add the shredded Corn and mix it well and add Salt as per taste and cook until the mixture become thick.
Take a stainless steel plate and apply a little bit of Oil over the plate then remove the mixture from the pan and transfer it into the plate. Spread the mixture evenly and keep it aside for 30 minutes. Then cut it into medium sized diamond shaped pieces.
Heat the Non stick pan add some Oil over the pan and shallow fry the Patodi until the color changes into golden brown on both sides.
For the Gravy:
Chop the Onion, Tomato, Coriander leaves. Prepare Ginger Garlic Paste.
Heat the Oil in a Pan and add the Fenugreak Seeds, Tej Patta and chopped Onion and then saute for 4-5 minutes until the color of the Onion changes to golden brown. Then add the Curd and Ginger-Garlic-Green Chili Paste and saute for 2 minutes and add the copped Tomato and cook for a minute.
Then add the Turmeric Powder, Red Chili Powder, Garam Masala, Cumin-Coriander Powder, Salt and ½ cup Water and mix it well and cook the Masala for 2-3 minutes on a slow flame.
Now the Masala of Gravy is ready.
Finally, add the Patodi Pieces and Coriander Leaves, mix it well.
Serve Sweet Corn Patodi Rassa with Paratha or Roti.
The Marathi language recipe of this recipe can be seen here – Makyachya Kansache Patavadi Rassa