This is a Recipe for making at home Pune's Most Popular and Famous Amrut Tulya Masala Chaha or Chai or Tea.
You will come across Amrut Tulya Masala Chaha Stalls, Vendors or Hotels in most streets of Pune. Some of these joints are very famous and popular, having loyal client customers.
This is a kind of tea that is prepared using a special Tea or Chaha Masala that is prepared using some spices. Then, while preparing this Tea Masala is added to the tea to give it the Amrut Tulya Chaha flavor.
Preparation Time: 10 Minutes
Serves: 2 Cups
Chaha Masala
Ingredients
25 Grams Sunth (Dry Ginger)
1 Tea spoon Black Pepper Corn
1 Tea spoon White Pepper Corn
10 Grams Green Cardamom
½ Nutmeg Powder
Ingredients for making Tea
1 Cup Milk
1 Cup Water
5 Tea spoon Sugar
½ Tea spoon Tea Masala
4 Tea spoon Society Tea Powder or which ever tea powder you prefer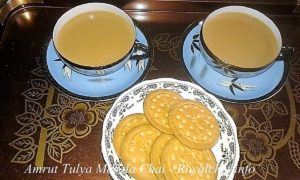 Preparation: For the Tea Masala: First of all slightly dry roast the Black Pepper Corn, White Pepper Corn and Green Cardamom on a slow flame. Then remove the skin of the Green Cardamom. Grind the Sunth, Black Pepper Corn, White Pepper Corn, Green Cardamom and Nutmeg in to fine powder.
For the Amrut Tulya Chaha: In a medium size pot pour the Water and Milk then add the Sugar and Tea Powder and then keep it on the medium size flame. When the mixture will start boiling add the Chaha Masala and mix it well. After boiling the Tea remove the pot from the flame and cover with a plate for 10-15 seconds.
Pour the Amrut Tulya Chaha in another pot using a tea filter.
Serve the Amrut Tulya Chaha hot.
The text of Amrut Tulya Chaha In Marathi Language can be seen here: Pune Famous Traditional Amrut Tulya Chaha
The Marathi language video of this Amrut Tulya Chaha can also be seen on our YouTube Channel – https://www.youtube.com/watch?v=6uftEg68SRk