This is a Recipe for preparing at home Crispy Tasty Besan Ka Chilla, which is also called as Besnache Dhirde or Besan Chi Poli in Marathi and Besan Ka Dosa in Hindi.
This is a simple and easy to prepare side-dish that is prepared using Gram Flour or Besan as the main ingredient along with some spices to give it that added spicy flavor.
The Besan Ka Chilla can make a standalone dish for breakfast or teatime snack or it can be served as a part of the main course meals.
Preparation Time: 30 Minutes
Serves: 4 Persons
Ingredients
2 Cups Besan
1 Medium Size Onion (chopped)
1 Medium Size Tomato (chopped)
¼ Cup Coriander Leaves (chopped)
2 Green Chilies (chopped)
1 Tea spoon Red Chili Powder
¼ Tea Spoon Turmeric Powder
¼ Tea Spoon Hing
Salt as per taste
Oil for frying the Besan ka Chilla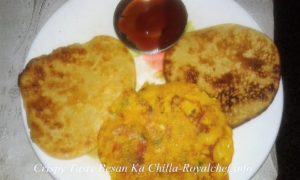 Preparation: Chop the Onion, Tomato, Coriander Leaves and Green Chili.
In Big size bowl put the Besan, chopped Onion, Tomato, Coriander Leaves, Green Chili, Red Chili Powder, Hing and Salt, mix it well and add enough Water to prepare a batter. Then Cover the bowl and keep it aside for 10-15 minutes.
Heat the Non stick pan and apply the Oil over the pan. Take ¼ Cup Besan batter and pour it into the pan and spread it over the pan then fry from both sides by using the Oil as per need.
Prepare all Besan Ka Chilla in the same way.
Serve the Besan Ka Chilla hot with Tomato Sauce or Chutney.
The Marathi language recipe of the same dish can be seen here – Besan Ka Chilla