This is a Recipe for making at home spicy, tasty and delicious traditional Konkani/ Maharashtrian Style Cashew nut Gravy, which is called as Kaju Chi Amti or Kaju Chi Bhaji in Marathi.
This authentic Konkani Cashew nut Gravy is either prepared freshly prepared coconut Masala and Ole or fresh Kaju or Cashew nuts that are soaked in water for about 2 hours.
This is thick Gravy that tastes equally good with rice, chapatis, parathas or puris.
The Marathi language version of this Cashew nut Curry recipe can be seen here – Konkani Kaju Chi Bhaji/ Amti
Preparation Time: 45 Minutes
Serves: 4 Persons
Ingredients
1 Cup Cashew Nuts
1 Tablespoon Oil
1 Medium size Onion (chopped)
1 Medium size Tomato (chopped)
1 Teaspoon Kashmiri Red Chili Powder
1 Tablespoon Fresh Cream
Salt as per taste
2 Tablespoon Coriander Leaves
For the Masala
1 Teaspoon Oil
1 Medium size Onion (chopped)
7-8 Garlic Petals
1" Ginger Piece
1 Cup Fresh Coconut (grated)
4 Dried Red Chili
½ Teaspoon Mustard Seeds
½ Teaspoon Cumin-Coriander Seeds
¼ Teaspoon Asafoedia (hing)
2 Cloves (laung)
1/2" Cinnamon (dalchini)
4 Green Cardamom
1 Small Black Masala Elaichi
½ Teaspoon Poppy Seeds
½ Bay Leaves
4-5 Pepper Corn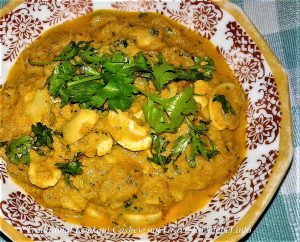 Preparation:
First soak the Cashew nuts in the Water for two hours. Chop the Onion, Tomato and Coriander Leaves.
For the Masala: Heat the Oil in a Kadai and then add the chopped Onion, saute for a minute and then add the Ginger-Garlic and grated Coconut and then saute until the color changes in to light brown.
Then, keep the mixture aside in the Kadai and add ½ Teaspoon Oil and all the Garam Masala Ingredients and saute for a minute. Mix it well and grind it into a fine paste.
For the Cashew nut Gravy: Heat the Oil in a kadai and add the chopped Onion and saute for 2 minutes on a slow flame.
Than add the chopped Tomatoes and saute for a minute and then add the soaked Cashew nuts, Red Chili Powder, Salt, grounded Masala, ½ cup Water and mix it well.
Cook the Masala for 5-7 minutes on a slow flame. If required add ½ cup more Water and the Fresh Cream and cook 2 minutes on a slow flame.
While Serving the Cashew nut Gravy garnish it with Coriander Leaves and serve with Paratha or Chapati.