This is a Recipe for making at home Rawa, Palak and Mixed Dal Idli with Pizza Style Topping. This tasty and delicious Mixed Dal Idli is prepared and then mixed with a specially prepared Masala, which includes Pizza Masala, Garam Masala and some other ingredients to give it that added spicy flavor.
It can be served for breakfast, during the main course meals and also in the tiffin boxes of school going kids.
Preparation Time: 25 Minutes
Serves: 15-16 Idlis
Ingredients
1 Cup Idli Rawa
1 Tablespoon Urad Dal
1 Tablespoon Moong Dal
1 Tablespoon Chana Dal
1 Tablespoon Poha
1 Tablespoon Sweet Corn (shredded)
1 Cup Spinach
1 Tablespoon Ginger-Garlic-Green Chili Paste
1 Small Fruit Salt Sachet
1 Teaspoon Pizza Masala
2 Teaspoon Oil
2 Tablespoon Butter
2 Tablespoon Sweet Corn (boiled)
2 Small size Tomato (chopped)
1 Teaspoon Chili Flakes
1 Teaspoon Amchoor Powder
2 Tablespoon Tomato Sauce
½ Teaspoon Garam Masala
Salt as per taste
2 Cheese Cubes (shredded)
2 Tablespoon Coriander Leaves (chopped)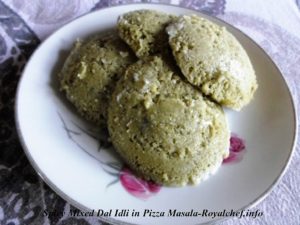 Preparation
Soak the Idli Rawa, Urad Dal, Moong Dal, Chana Dal and Poha separately for 2-3 hours.
Then, grind them into a fine paste.
Wash and grind the Spinach,
Then, mix the grounded Dal, Spinach, shredded Sweet Corn and Salt.
Then, add the Ginger-Garlic-Green-Chili Paste, Salt, Fruit Salt and mix it well and prepare Idli from this batter.
For the Masala 
2 Teaspoon Oil, 2 Teaspoon Butter, boiled Sweet Corn, chopped Tomato, Chili Flakes, Amchoor Powder, Salt, Garam Masala and Pizza Masala, mix it well and saute for 2-3 minutes.
Then, add the Idli into the Masala and saute for 2 minutes on a slow flame.
Garnish with Shredded Cheese and chopped Coriander Leaves and Serve hot.