This is a Recipe for making at home sweet, tasty and delicious Lal Bhoplyachi or Red Pumpkin Kheer. The Lal Bhoplyachi Kheer is a traditional and authentic Maharashtrain Kheer preparation, which does not take much time or effort to prepare.
The Marathi language version of this Kheer recipe can be seen here – Lal Bhoplyachi Kheer
Preparation Time: 25-30 Minutes
Serves: 4 Persons
Ingredients
2 Cup Red Pumpkin (shredded)
½ Liter Milk
2 Tablespoon Dried Milk (Khoya)
¼ Cup Sugar
4-5 Almonds (finely chopped)
4-5 Cashew nuts (finely chopped)
1 Tablespoon Ghee
1 Teaspoon Cardamom Powder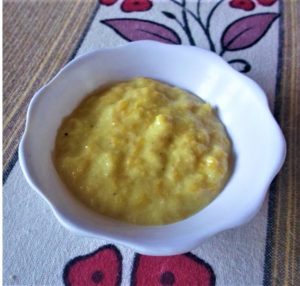 Preparation
Clean, wash and peal the Red Pumpkin.
Heat the Ghee in a Kadai and saute the shredded Red Pumpkin for 2-3 minute and add the Milk and cook for 5 minutes on a slow flame.
Then add the Dried Milk (Khoya), Sugar, Cardamom Powder, mix it well and cook for 2-3 minutes on a slow flame.
Garnish with Dry-fruits. Serve hot or chilled.