This is a Recipe for making at home sweet and delicious Ambyachya Satorya or Mango Satori. This is a traditional Maharashtrian Stuffed Puri like sweet dish, which is prepared using mango juice along with Gram Flour as the main ingredients. The Mango Satori can also be prepared as a part of the annual Diwali Faral.
The Marathi language version of the same Satori recipe can be seen here – Ambyachya Satorya
Preparation Time: 60 Minutes
Serves: 12 Nos
Ingredients
For the Covering:
1 Cup Refined Flour
1 Tablespoon Ghee
Salt as per taste
For the Stuffing:
1 Cup Gram Flour
2 Cups Mango Pulp
¾ Cup Sugar
1 Tablespoon Ghee
1Teasoon Cardamom Powder
Ghee for deep fry the Mango Satori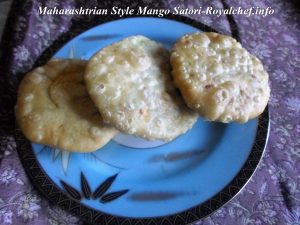 Preparation
For the Covering:
Mix the Refined Flour, Ghee, Salt and add enough Water to prepare a Dough and keep it aside for 30 minutes. Then prepare 12 equal sized balls from the Dough.
For the Stuffing:
Heat the Ghee in a Kadai and add the Gram Four, mix it well and roast for 5-7 minutes on a slow flame. Then add the Mango Pulp, Sugar, Cardamom Powder and cook until the mixture become thick. Remove the mixture from the flame and keep it aside for cooling.
For the Satori:
Take a Dough ball and roll it like a small Puri and insert a tablespoon of the mixture into it and then close the Puri and it roll slightly. Prepare all the Satori using the same procedure.
Heat the Ghee in a Kadai and deep fry all Satori on a medium flame until they become crispy.
After preparing the Satori keep them aside for cooling and then store them in a container.