This is a Recipe for making at home tasty Fast-Food Stall or Mithai Shop Style Kaju Ki Kachori or Cashew nut Kachori. This is a delicious Kaju flavored Kachori, which makes use of Cashew nuts as the main ingredient.
The Marathi language version of this Kachori recipe can be seen here – Kaju Chi Kachori
Preparation Time: 60 Minutes
Serves: 20 Nos
Ingredients
For the Stuffing
½ Cup Coriander Leaves (chopped)
4 Garlic Petals
6 Green Chilies
2 Tablespoon Dry Coconut (shredded)
1 Cup Cashew nuts
1 Cup Onion (finely chopped and fried)
½ Teaspoon Coriander-Cumin Seeds Powder
¼ Teaspoon Garam Masala
¼ Teaspoon Ani Seeds
1 Teaspoon Sugar
Salt as per taste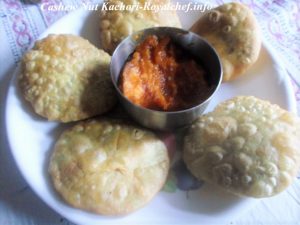 For the Covering
2 Cups Refined Flour
2 Tablespoon Vanaspati Ghee
2 Tablespoon Corn Flour
Salt as per taste
Oil for frying the Kachori
Preparation
For the Stuffing: Soak the Cashew nuts for an hour in water and then remove the Water and wipe them clean and chop them.
Grind the Coriander Leaves, Garlic, Green Chilies and Dry Coconut to a paste and keep it aside.
Heat a tablespoon Oil in a kadai and add the grounded Masala.
Saute for a minute on a slow flame then add the Cashew nuts, Coriander-Cumin Seeds Powder, Garam Masala, Ani Seeds, Sugar, Salt and saute for a minute.
Then add the fried Onion and mix it well.
For the Covering: Mix the Vanaspati Ghee, Cornflour and Salt.
Then mix the Refined Flour and add some Water to prepare a thick Dough and keep it aside for 10 minutes.
Prepare 20 equal sized balls from the Dough.
Roll the balls like small Puris and insert a tablespoon mixture into the Puris and close the Puris nicely and roll slightly. Prepare all Kachori as per the same procedure.
Heat the Oil in a Kadai and deep fry the Kaju-Kachoris until they become crispy.
Serve the Cashew-nut Kachori with Tomato Sauce or Green Chutney.