This is a simple to follow step-by-step recipe to make at home typical restaurant or Dhaba Style Sukha or Dry Chicken Liver and Gizzard. This is thick gravy, which goes very nicely with rotis or parathas, it can also be served with rice.
Preparation Time: 30-35 Minutes
Serves: 4 Persons
Ingredients
500 grams chicken livers and gizzards
200 grams onions
3 cloves of garlic
½ teaspoon ginger
1 teaspoon red chili powder
100 grams of Butter/Vanaspati
1 teaspoon salt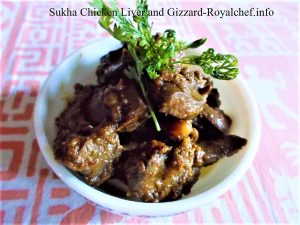 Preparation
Cut the chicken gizzards into half and keep them aside.
Peel and slice the onions,
Peel and crush the ginger.
Heat the Vanaspati in a Kadai and add the chopped onions and fry them until they are well browned.
Then add the ginger and garlic and fry for another 7-8 minutes.
Then add the chicken gizzards, chill powder and salt and fry for another 3-4 minutes.
Then add 500 milliliters water and partly cover the Kadai and let it simmer until the chicken gizzards are soft and almost cooked.
The add the chicken livers and fully cover the Kadai and let it cook over a low flame, remover the cover and stir from time to time to prevent the contents sticking to the Kadai,
When the chicken gizzards and livers are fully cooked remove from the fire and serve hot with Puri, Roti or Paratha.