This is a recipe for making at home plain and simple Chicken Soup. This is normally the kind of Chicken Soup, which is served to sick and ailing patients in a hospital. Even though, the Chicken Soup appears to be plain, it is healthy and nourishing and can also be served to growing children.
Preparation Time: 25-30 Minutes
Serves: 5-6 Persons
Ingredients
1 liter Chicken Stock
Onions 30 grams
Ginger 15 grams – finely chopped
Milk 60 Milliliters
Flour[Maida] 15 grams
Cream 50 grams
Egg Yolks 2
Vanaspati 30 grams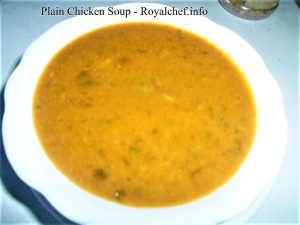 Preparation
Heat a Kadai and sweat the onions in the Vanaspati.
Add the chopped Ginger and Maida and fry for half a minute.
Add the Chicken Stock and then the Milk and let it simmer for about 5 minutes.
Then remove from the fire and strain the contents through a fine strainer or muslin cloth.
The again put the contents on a slow flame and add the Cream and Egg Yolks and mix well.
Let it cook for 2-3 minutes.
Remove from the fire and serve hot.