This is a easy and simple to understand step-by-step Recipe for making at home tasty and delicious homemade Chicken Mayonnaise. This homemade Chicken Mayonnaise Sauce not only tastes great, but retains it original flavor for 6-7 day when kept in the refrigerator.
The Marathi language version of the same Mayonnaise recipe and preparation method can be seen here – Homemade Chicken Mayonnaise
Preparation Time: 45 Minutes
Serves: 6-8 Persons
Ingredients:
For the Chicken:
4-5 Big Size Chicken Pieces
1 Tablespoon Oil
1 Tablespoon Garlic Paste
1 Teaspoon Black Pepper Powder
¼ Cup Water
Salt as per taste
For the Mayonnaise Sauce:
2 Cups Milk
2 Eggs Yolk
2 Tablespoon Cornflour
1 Teaspoon Mustard Powder
1 Tablespoon Sugar
1 Tablespoon Refined Oil
1 Tablespoon Vinegar
Salt as per taste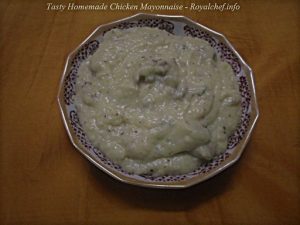 Preparation:
For the Chicken:
Wash the Chicken pieces and keep them aside.
Heat the Oil in a Kadai and add the Ginger-Garlic Paste and saute for a minute.
Then add the Chicken Pieces and ¼ cup Water.
Cover the Kadai with a stainless steel plate and pour ¼ cup Water over the plate and cook for 5-7 minutes on a slow flame.
Remove the plate from the Kadai and add the Salt and Black Pepper Powder and cook the Chicken until it becomes dry.
Keep it aside for cooling and cut into small pieces.
For the Mayonnaise Sauce:
In a medium size vessel keep the Milk for boiling.
Then break the Egg and take only a yellow part of the Egg in a bowl.
Then add the Cornflour, Mustard Powder, Sugar, Salt, Oil and mix it well and add the mixture slowly in the boiling Milk.
Keep stirring on a slow flame for five minutes.
Remove the mixture from the flame and keep it aside and five-seven minutes and then add the Vinegar and mix it well.
When the mixture cools down add the Chicken pieces.
Mix it well.
Chicken Mayonnaise Sauce is ready for use.
You can use this Chicken Mayonnaise Sauce with Bread or Chapati.