This is a Recipe for preparing at home Spicy Maharashtrian Style Shredded Potato Karanji. This is a Karanji variation, which has been experimented by me using Shredded Potatoes or Batata Kis as the main ingredient along with some traditional Indian Spices.
This Karanji can be a useful snack or standalone item for breakfast.
The Marathi language version of the same Batata Kis Karanji can be seen here- Batatyachya Kishachi Karanji
Preparation Time: 60 Minutes
Serves: 20 Karanji
Ingredients
For the Stuffing
5 Potato (big sized)
1 Cup Ground Nuts
2 Teaspoon Red Chili Powder
¼ Teaspoon Turmeric Powder
½ Cup Coriander Leaves (chopped)
Salt and Sugar as per taste
Oil for frying the Karanji
For the Covering
3 Cup Besan [Gram Flour]
½ Teaspoon Red Chili Powder
2 Tablespoon Oil (hot)
Salt as per taste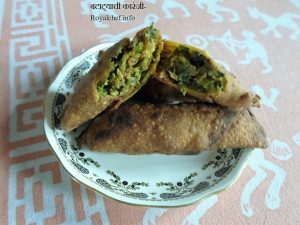 Preparation
For the Stuffing: Half boil the Potatoes, peal them and then shred them.
Roast the Ground Nuts.
Heat the Oil in a Kadai and then deep-fry the shredded Potatoes until the color changes into light brown and they become crispy.
Mix the fried Potatoes, Ground Nuts, Red Chili Powder, Turmeric Powder, Salt, Sugar, chopped Coriander.
For the Covering: Mix the Besan, Red Chili Powder, Salt and hot Oil. Then add some Water and prepare a thick Dough. Prepare 20 equal balls from the Dough.
For the Karanji: Roll the Dough Balls into Puri sized round shapes and insert a tablespoon of the Potato mixture into the rolled Puris and then close the Puri and slightly press from the folded sides, with your hands. Prepare all Karanjis using the same method.
Heat the Oil in a Kadai and deep-fry the Karanjis until they become crispy.