This is a Recipe for preparing at home spicy Hirvya Mirchicha Kharda or Thecha This is traditional and authentic Maharashtrian Chutney, which is most popular in the villages and rural areas of Maharashtra. The Hirvya Mirchicha Kharda is a great add-on to any kind of meal or even from breakfast. Tastes great with Rice or Bhakri.
The Marathi language version of this Mirchi Thecha recipe and its preparation method can be seen here  – Hirvya Mirchi Cha Kharda
Preparation Time: 15 Minutes
Serves: 2 Persons
Ingredients
15 Big size Fresh Green Chili
8 Garlic Petals
1 Tablespoon Lemon Juice
Salt as per taste
1 Tablespoon Oil
For the Tadka
1 Teaspoon Oil
1 Teaspoon Mustard Seeds
¼ Teaspoon Asafoetida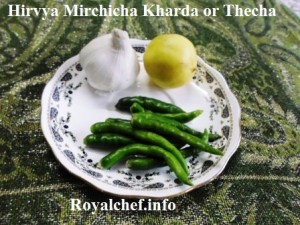 Preparation
Heat the Tawa on a slow flame. Then add two tablespoon Water, Green Chilies, Garlic and cover with a plate for two minutes.
Remove the plate and cook the Green Chilies until they become dry. Then add the Salt, Lemon Juice and mash the Green Chilies and Garlic under a stainless steel katori. Then add a tablespoon of Oil and fry for a minute.
Heat the Oil in a kadai, add the Mustard Seeds, Asafoetida, and pour the Tadka over the mashed Green Chilies.
The Kharda is ready. Serve with Bhakri.