This is a easy to follow step-by-step Recipe for preparing at home authentic Maharashtrian Style Spicy Malai Prawns Curry or Kolambi Malai Masala, as this Prawns Gravy is known in the Marathi language.
This Prawns dish is a thick Prawns Gravy prepared using a freshly grounded special Kolambi Garam Masala, which makes the Gravy spicy and delicious. The Prawns Malai Gravy can be served as a non-vegetarian seafood dish for any kind of party.
The Marathi language version of this Prawns Curry preparation Method is published here- Spicy Kolambi Malai Rassa
Spicy Malai Prawns Gravy Preparation Time: 45 Minutes
Serves: 2 Persons
Ingredients
250 Gram Prawns [Kolambi]
½ Cup Yogurt (Dahi)
2 Big size Tomato
Sugar and Salt as per taste
½ Cup Coconut
2 Tablespoon Coriander (chopped)
½ Cup Oil
For the Masala
2 Big size Onion (chopped)
7-8 Garlic Petals
1" Ginger Piece
1 Teaspoon Red Chili Powder
½ Teaspoon Turmeric Powder
½ Teaspoon Garam Masala
½ Tablespoon Poppy Seeds
2 Big size Tomatoes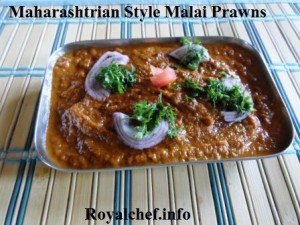 Preparation
Wash the Prawns, apply the Salt and Turmeric Powder, and keep them aside.
Boil the Tomatoes and prepare a Puree. Chop and grind the Onion along with the Ginger-Garlic, Red Chili Powder, Turmeric Powder and Garam Masala.
Soak the Poppy Seeds and prepare a paste.
In a mixer jar add the shredded Coconut and two tablespoon Water and prepare a Paste.
Heat the Oil in a kadai and deep fry the Prawns on a slow flame until its color changes in to light brown and keep them aside.
Remove the Prawns from the kadai and add the shredded Onion, Ginger-Garlic Paste, Red Chili Powder, Turmeric Powder and sauté for five minutes on a slow flame.
Add the Tomato Puree and sauté for 2-3 minutes then add the Poppy Seeds Paste, grounded Coconut Paste and fried Prawns, Sugar, Salt and cover the kadai with a plate and then cook the Pawns until they are cooked.
While serving garnish with chopped Coriander. Serve hot with Parathas or fried Jeera Rice.