This is a Recipe for Crispy Potato Balls, which can also be called as mini Batata Vadas the ones, which are served at wedding and as a starts item for other parties. The ingredients are the same as that of the traditional Batata Veda with only a small variation in the method of preparation.
Preparation Time: 60 Minutes
Serves: 4 Persons
Ingredients
For the Filling
5 Medium size Potatoes (boiled, pealed and mashed)
1 Medium size Lemon (juice)
Salt as per taste
For the Masala (grind)
2 Tablespoon Coriander (chopped)
2-3 Green Chilies
1" Ginger Piece
8-10 Cloves Garlic
For the Covering
2 Cups Gram Flour (besan)
1 Teaspoon Red Chili Powder
¼ Teaspoon Turmeric Powder
1 Tablespoon Oil (hot)
Oil for frying the Potato Balls
Salt as per taste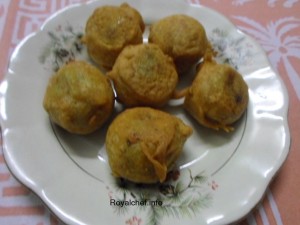 Preparation
Boil, peal and mash the Potatoes. Grind the Coriander, Green Chilies, Ginger and Garlic, mix the Potatoes, grounded Masala, Lemon Juice, and Salt and prepare Dough. Prepare small round balls from the Dough and keep them aside.
Mix the Gram Flour, Red Chili Powder, Turmeric Powder, Salt, hot Oil and some water and prepare a smooth batter and set aside.
Heat the Oil in a Kadhai and dip the Potato Balls in the Batter and deep fry into the hot Oil until golden brown.
Serve hot with Tomato Sauce or Mint Chutney.