This is a Recipe for Godya Valachi Usal, the sweet variety of the Vaal or field beans or broad beans, as it is known in English. Pavta is the name for the fresh Seeds and Vaal for the dried variety. This Vaal preparation is a Maharashtrian Usal/Bhaji Dish, prepared in the traditional Maharashtrian style of cooking.
Ingredients
1 Cup Godevaal
1 Small Onion (chopped)
2 Kokam
1 Teaspoon Goda Masala
1 Tablespoon Jaggery
1 Tablespoon Coconut (grated)
1 Tablespoon Coriander Leaves (chopped)
Salt as per taste
For the Tadka
½ Tablespoon Oil
1 Teaspoon Mustard Seeds
1 Teaspoon Cumin Seeds
¼ Teaspoon Fenugreek Seeds
4-5 Garlic Petals (mashed)
¼ Teaspoon Asafoetida
½ Teaspoon Red Chili Powder
¼ Teaspoon Turmeric Powder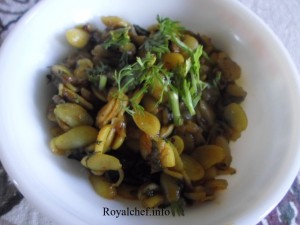 Preparation
Soak the Godevaal in Water for eight-hours, then drain the Water and keep the Godevaal aside for twelve hours. Soak the Godevaal in warm Water for ten minutes and then remove the skins and keep them aside.
Heat the Oil in a Kadhai, add the Mustard Seeds, Cumin Seeds, Fenugreek Seeds, Asafoetida, Onion, and then fry for two minutes on a slow flame. Add the Red Chili Powder, Turmeric Powder, Salt, Godewal and one-cup water. Mix it well and cover the Vessel with a stainless steel plate by adding some Water. Cook for ten-twelve minutes on a slow flame.
Add the Goda Masala, Kokam, and ¼ cup water and cook for two minutes on a slow flame. Then add the Jaggery, Coriander Leaves and Coconut, mix it well and cook for a minute.
Serve hot with Chapattis.
The Godya Valachi Usal preparation method in English is published in this – Article