This is a simple to understand step-by-step Recipe for preparing at home typical authentic Chinese Restaurant Style Cantonese Fried Rice, one of the more famous and popular of the Chinese Fried Rice dishes.
The Marathi language of this fried rice preparation method is published here – Cantonese Style Fried Rice
Cantonese Fried Rice Preparation Time: 25 Minutes
Serves: 2 Persons
Ingredient
1 Cup Basmati Rice
½ Cup Mushroom (cut in to stripes)
¼ Cup Carrot (cut in to stripes)
¼ Cup French Beans (cut in to stripes)
¼ Cup Spring Onion (cut in to stripes)
1 Tablespoon Oil
1 Tablespoon Ginger-Garlic (chopped)
1 Tablespoon Tomato Sauce
1 Teaspoon White Pepper Powder
Ajinomoto as per taste
Salt as per taste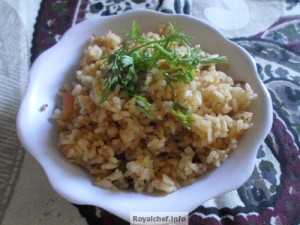 Preparation
First, cook the Rice separately and keep it aside.
Heat the Oil in a kadhai and add the Ginger-Garlic Paste, Mushroom, Carrot, French Beans and fry for two minutes on a full flame.
Add the Ajinomoto, Salt, Tomato Sauce and fry for a minute. Then add the cooked Rice, White Pepper Powder and mix it well. Fry for five minutes on a slow flame.
Garnish with Spring Onion and serve hot.