This is a Recipe for Crispy and Spicy Chicken Cutlets, a extremely popular cutlet dish for any kind of party, can also be served as a starters item.
Ingredients
½ Kg Boneless Chicken (cubed)
¼ Cup Breadcrumbs
2 Medium size Onion
¾ Tablespoon Coriander Seeds Powder
½ Teaspoon Ginger (chopped)
¼ Teaspoon Garam Masala Powder
¼ Teaspoon Cumin Seeds Powder
1 Egg
¾ Tablespoon Ghee
A few Pepper Corn Powder
Salt as per taste
Oil for frying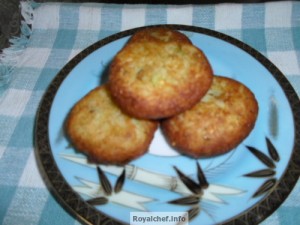 Preparation
Grind the Onion, Ginger, Garlic along with a little Water prepare a thick paste.
Grind the Chicken cubes, Bread Crumbs, Egg and Salt.
Mix the Onion, Ginger-Garlic Paste, Chicken Paste, Pepper Corn Powder, Coriander Seeds Powder, Cumin Seeds Powder, and Ghee and prepare a Dough.
Prepare small balls from the Dough.
Heat the Oil in frying pan and deep-fry the balls until the color changes into golden brown.
Serve hot.