This is a Recipe for Nutritious Sprouted Moong Dosa. It is very Nutritious and healthy dish for the Tiffin Box of your child.
Preparation Time: 40 Minutes
Serves: 4 Persons
Ingredients
2 Cup Sprouted Moong
3 Green Chilies (chopped)
1 Tea spoon Ginger Paste
2 Table spoon Coriander Seeds
1 Tea spoon Red Chili Powder
¼ Tea spoon Turmeric Powder
A pinch Asafoetida
Salt as per taste
Oil for frying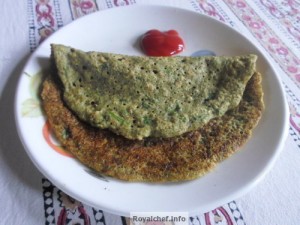 Preparation
Grind the Sprouted Moong, Green Chili, and Ginger to a fine paste. Add the Coriander Leaves, Red Chili Powder, Turmeric Powder, Asafoetida, and Salt, mix it well, and prepare a batter.
Heat the frying pan and apply the Oil over the pan then pour ¼ cup batter over the frying pan, spread evenly and then add a tea spoon Oil over the Dosa. Fry from both sides.
Serve hot with Tomato Sauce or Chutney.
The Marathi language version of the Moong Dosa can be seen in the article – Here