This is a simple and easy to understand Recipe for making the popular Rice Idli. The preparation is easy and most suitable for new homemakers for making clean and hygienic Idli Batter and Idlis at home.
The Marathi language version of this Rice Idli recipe and preparation method can be seen here – Simple Idli Recipe
Preparation Time: 60 Minutes
Serves: 36 Idli
Ingredients
2 Cups Boiled Rice or any thick Rice
1 Cup Black Gram Dal (urad dal)
¼ Cup Idli Rawa
2 Table spoon Sesame Oil
Salt as per taste
Oil for preparing Idli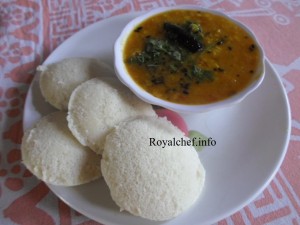 Preparation
Soak the Boiled Rice and Black Gram Dal separately for 6-7 hours. Grind the Rice and Dal to a very fine and thick batter, using water as required and then mix the Salt and Sesame Oil in the batter. Keep the batter aside to ferment for at least 7-8 hours.
Steam in oiled Idli moulds in a pressure cooker for fifteen minutes. Do not stir the batter before filling the moulds. The trapped ait makes fluffy, soft Idles.
Serve hot with Coconut Chutney or Coconut Vegetable Sambar.