This is a another recipe to prepare the traditional Maharashtrian Fresh Green Chickpea Pulao or Solane Bhat or Taje Hirve Harbara Pullao, a variation of the famous Maharashtrian Masale Bhat.
Ingredients
1 Cup Basmati Rice
¼ Cup Fresh Green Chickpea [Taje Hirve Harbare]
1 Small Onion
½ Table spoon Ginger-Garlic Paste
2 Table spoon Coconut (grated)
1 Table spoon Coriander
1 Tea spoon Lemon Juice
2 ¼ Cup Water (hot)
Salt as per taste
For the Masala
1 Table spoon Oil
5-6 Black Pepper Corn
2 Small Pieces Cinnamon
½ Tea spoon Caraway Seeds
2 Cardamoms (green)
1 Bay Leaf
¼ Tea spoon Turmeric Powder
½ Tea spoon Garam Masala Powder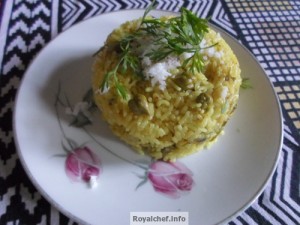 Preparation
Wash the Rice and keep it aside for twenty minutes.
Heat the Oil in the Pressure Cooker and add the Pepper Corn, Cinnamon, Caraway Seeds, Cardamoms, Bay Leaf, Onion, Ginger-Garlic Paste and fry for two minutes. Add the Turmeric Powder, Harbare, Rice and fry for four-five minutes on a slow flame.
Then add the Garam Masala, Coconut, Salt, Lemon Juice, Coriander Leaves, hot Water and mix it well. Cover the Pressure Cooker and cook until it gives two whistles.
While Serving garnish with the Coconut, Coriander and add one Tea spoon Ghee.
Serve hot.