This is a Recipe for making at home sweet and delicious Chocolate Sesame Ladoos, a variation of the usual Makar Sankranti Tilachi Vadi; this Laddu uses chocolate as the main ingredients along with sesame seeds. A sure hit with children.
The Marathi language version of this Ladoo recipe can be seen here – Chocolate Til Ladoo
Preparation Time: 45 Minutes
Serves: 25 to 30 Ladoos
Ingredients
250 Gram Dark Compound Chocolate Base
1 Cup Sesame Seeds
¼ Cup Desiccated Coconut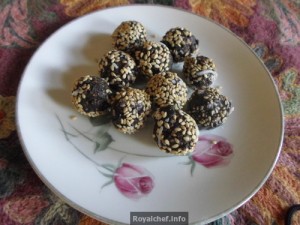 Preparation
Cut the Dark Compound Base into medium size pieces.
In a Sauce Pan, boil two-cups Water. In a medium size stainless steel vessel add the Dark Compound Chocolate pieces and place the vessel inside the Sauce Pan. When the Chocolate Base melts completely remove the Vessel from the Sauce Pan and keep it aside for four-five minutes.
Then add ¾-cup Sesame Seeds and Desiccated Coconut and mix it well. Then prepare small size Ladoos. Spread the remaining Sesame Seeds over a plate. Roll the Ladoos over the Sesame Seeds.
Keep the Ladoos in a refrigerator for five minutes. The Chocolate Sesame Ladoos are ready.