This is a Recipe for Strained Yogurt Fruit Salad or Indian style Malai Chakka Fruit Salad. Also given below is the recipe in the Marathi language. This Salad can also be served as a Dessert after the main course.
Ingredients
1 Cup Apple (peel and cut)
1 Cup Banana (peel and cut)
½ Cup Guava (peel and cut)
1 Cup Orange (peel and cut)
1 Cup Sapota (chikoo peel and cut)
½ Cup Pineapple (peel and cut)
2 Table spoon Pomegranate
2 Table spoon Sugar (grounded)
1 Cup Strained Yogurt (add 1 Table spoon Sugar and whip)
4-5 Drops Vanilla Essence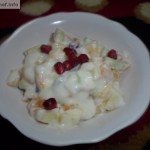 Preparation
Mix all Fruits, powdered Sugar, Cream, Vanilla Essence and mix it well and keep it in the Refrigerator for two-three hours.
Serve chilled.
फ्रुट सलाड
साहित्य : १ कप सफरचंद तुकडे (सोलून, तुकडे), १ कप केळे (तुकडे), १/२ पेरू (साले काढून तुकडे), १ कप संत्रे (सोलून, तुकडे), १ कप चिक्कू (साले काढून तुकडे), १/२ कप अननस (सोलून तुकडे), २ टे स्पून डाळिंबाचे दाणे, २ टे स्पून पिठीसाखर, १ कप मलई चक्का (चाळून १/४ कप दुध १ टे स्पून साखर मिक्स करा), ४-५ थेंब व्हानीला इसेन्स
कृती : सर्व फळांचे तुकडे, पिठीसाखर, चक्का व व्हानीला इसेन्स घालून मिक्स करा व फ्रीजमध्ये थंड करून मग सर्व्ह करा.